Primary Sources
Browse Items
From the beginning, Civic Forum had to balance two objectives: leading popular protests and negotiating with the regime. In its first week, the Forum concentrated on mobilizing public support for the upcoming general strike. November 26 signified a turning point. That morning, Forum representatives appeared at the first formal round of negotiations with only their original four demands; they….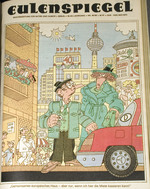 This cartoon from the East German weekly magazine Eulenspiegel (a weekly magazine of humor and satire), is poking fun at the possibility of German reunification. Once the Berlin Wall was torn down, unification became the goal of most (but not all) Germans on both sides of the border. The caption under the cartoon reads: "A common European home - but, only when I can collect the rent!"….
After gaining the position of General Secretary of the Communist Party, Mikhail Gorbachev set the Soviet Union on the path of reform with perestroika (restructuring) and glasnost' (openness). He had followed his domestic changes with a general arms reduction throughout Eastern Europe in 1988, extending the reach of his reforms. On 6 July 1989, in a speech made in front of the Parliamentary….