Primary Sources
Browse Items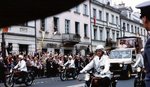 When Pope John Paul II arrived in Warsaw during his 1987 "pilgrimage" he drove from the airport to the Primate's palace. A huge crowd turned out to greet him and flowers were laid out along the street that he was scheduled to travel. This pattern was repeated throughout his visit, wherever he went. Though tens of thousands of people lined the roads just to see him pass by, and millions attended….
President George H. W. Bush visited Poland and Hungary in July 1989, following a series of speeches he had made that defined the direction his administration would take in its relations with the Soviet Union. On April 17, at Hamtramck, Michigan, a suburb of Detroit heavily populated by Polish-Americans, Bush had devoted a speech—referred to in the excerpt below—to the future of Eastern….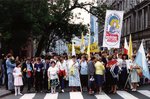 From June 8-14, 1987, Pope John Paul II made his third "pilgrimage" to his homeland (he had already visited in 1979 and 1983). As on the first two occasions, life in Poland seemed to stop during his visit, as nearly the entire country (at least, so it seemed) participated in this historic moment. These photographs were taken a week before he arrived, and the buildings were far from any of the….