Primary Sources
Browse Items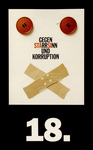 Poster criticizing the Stasi - the GDR secret police - prior to March 18, 1990 East German election in which voters overwhelmingly backed unification with West Germany. The red letters in the poster "GEGEN STARRSINN UND KORRUPTION" - "AGAINST PID-HEADEDNESS AND CORRUPTION" - spell out the name of the hated secret agency, and the number "18" alludes to the upcoming….
This Secret Police (StB) memorandum from 21 August details the plans of independent and opposition groups to commemorate the politically-sensitive anniversary of the 1968 Warsaw Pact invasion, and the police's "extraordinary security measures" to prevent the commemorations from taking place. The memorandum presents a striking picture of the scale and diversity of the repressive measures….
As a result of the intensifying public demonstrations in the first half of 1989, the Czechoslovak Communist Party increased its surveillance and suppression of independent and opposition groups, particularly in anticipation of politically-charged anniversaries. This Secret Police (StB) memorandum details preparations by various groups to commemorate the August 21st anniversary of the 1968….