Primary Sources
Macroeconomic Indicators in Czechoslovakia 1970-1990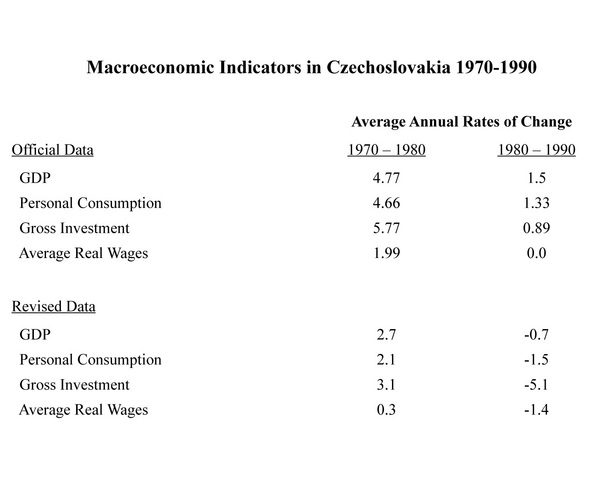 Description
One of the many ways historians, economists, and other social scientists measure the health of a state's economy is by examining changes in macroeconomic indicators over time. This chart shows changes in four of those measures—the gross domestic product (GDP), the rate of personal consumption, the gross rate of investment by the state in the economy, and the wages of workers—in Czechoslovakia between 1970 and 1990. The first set of data are the official numbers reported by the Communist stat and the second set are data published after the fall of Communism and are therefore much more accurate portrayals of what was happening in the Czechoslovak economy in the last two decades of Communist rule.
On the one hand, the difference between the official and revised statistics gives you a sense for how the government in Prague was trying to cover up underlying problems in the Czechoslovak economy. On the other hand, however, even in the official statistics, the severe slow down of the 1980s appears. When workers' wages do not change at all in a decade and the other macroeconomic indicators given here all fall precipitously, there is something very wrong with the economy. The revised data do not change that conclusion. They merely provide more accurate evidence of what was really happening.
When you consider these data, think about what they mean in light of official propaganda that stressed how well the Czechoslovak economy was performing, not only on its own terms, but in relation to the economies of the West European states. The average citizen was surely aware that his or her wages did not change for a decade and that the economy was not performing as well as it had in previous years.
Faced with this contradiction between the rosy picture found in official pronouncements and the reality of everyday life, how might citizens react?
Source
Czechoslovakia and Yugoslavia: Ethnic Conflict and the Dissolution of Multinational States (Berkeley: University of California, 1997): 17