Primary Sources
Browse Items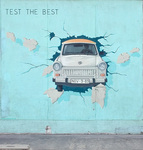 This painting by Birgit Kinder is on a segment of the Berlin Wall that was on the east bank of the Spree River that separated portions of East and West Berlin. Because this section of the wall was on the opposite shore of the river, it was not covered by graffiti as was the case with the rest of the west face of the Wall (accessible to West Berliners). After the reunification of East and West….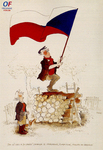 In Spring 1990, Czechoslovak artist and cartoonist Vladimir Rencin sends this message that is was time to stop the flag-waving euphoria surrounding the revolution's victory and to get to the hard work of rebuilding the country. The caption reads: "It's high time for you to climb down and get to work! The garden is neglected, the latrine" (actually a Czech word for an open-air refuse pit) "is….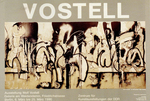 A more abstract image of the night the wall fell appears in this painting by an artist whose work had also appeared on the western side of the wall itself. This painting represented a March 1990 show of Vostell's work in a gallery in East Berlin - formerly a bastion of "socialist realist" art hailing the communist regime.
[description as stated in the guide for Goodbye, Comrade:….