Primary Sources
Browse Items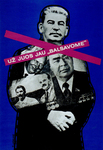 March 1989 election poster for the nationalist "Sajudis" movement in Lithuania, wryly alluding to the Soviet leaders pictured here - Stalin, Molotov, Khrushchev, and Brezhnev - whose rule had been imposed on the Baltic countries since World War II and ratified through sham elections.
[description as stated in the guide for Goodbye, Comrade: An Exhibition of Images from the….
In this proclamation, the political leaders of the Lithuanian national movement made a formal break with the Soviet Communist Party, and by implication with the Soviet government itself. Published as the last of the East European communist governments was coming to an end, thus marking the breakdown of the Iron Curtain, the first Soviet republics were beginning to assert their independence from….