Primary Sources
Browse Items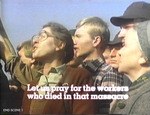 Filmed just after Solidarity's initial spectacular rise in 1980, Andrzej Wajda's Man of Iron was won immediate global acclaim. Whereas Wajda's earlier award-winning film, Man of Marble, had focused on the lonely struggle of an idealistic young film student to uncover the truth about the disillusionments and betrayals of the early communist era in Poland, the individual characters in Man….
In the fall of 1988, Alfred Miodowicz, the head of the official union OPZZ (All-Poland Alliance of Trade Unions), challenged Lech Wałesa, the leader of the outlawed Solidarity trade union, to a televised debate. The offer signaled the growing willingness of many party leaders to compromise with opposition groups, but it was also a sign of the party's continued self-confidence. Miodowicz, a….
Hungary began dismantling the barbed wire along its border with Austria in May, 1989. Over the summer months, thousands of East Germans risked their lives crossing over the Hungarian-Austrian border before heading north to West Germany. East Germany pressured Hungary to close its border with Austria, but on September 10, 1989 the Hungarian government announced that it was officially opening the….